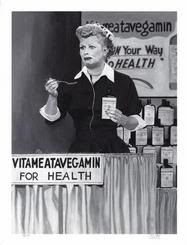 I got my results back today and the results showed nothing. Not exactly nothing but not anything that can be fixed. Yes, I have a racing heart but they don't know what is causing it. That is a good thing in one respect because it isn't going to require surgery. It is not a good thing because if nothing is "wrong" it can be fixed. My doctor wanted to put me on medication but after much discussion I decided against it. So now what? It is a wait and see and if does not improve he will send me to a specialist.
I want to thank you for all your comments. I really do love each of you.
In other news I decided to buy some "I Love Lucy" DVD's. The kids and I have been laughing a fit to kill. We just have the first two seasons but will be getting more! It does a heart good to laugh!