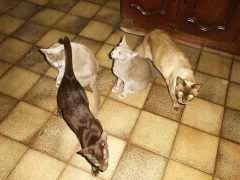 I tried to take a break but I like to hear myself talk so I am still here. I wish I could rest. I think it would help but alas...I can never stop thinking and writing. It is therapy.
The heart situation is about the same. My entire chest wall aches all the time. It hurts to breathe sometimes. This evening I had to drive to the park. Walking back to the car I had to stop and rest. Bah. This is a drag. Last year I was running, biking, playing soccer, and outside everyday with the kids. This year I can't make it to the car. Results soon I hope.
In other news. I am thinking about getting another cat. Since I have no interest being in a relationship I am again considering becoming a single crazy cat lady. I just have one cat now but I need to get on this dream if it is to become a reality.