I think my life has come down to thinking about posts to write in my blog. Seriously. It is a sad state of affairs.
This moring while reading blogs I felt a presence that was not human. I was being watched. Sure enough I was. Norbert was staring at me. I looked over and he didn't blink. He just started. Weird cat.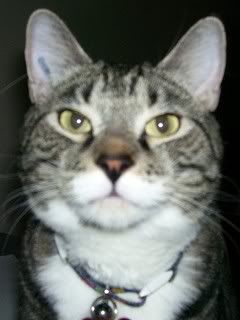 Today I went to a place downtown that promotes literacy. It is in a rather seedy part of town and you have to ring a bell to get in. When the nice lady answered I felt like I was being let into a Speakeasy. Anyway, I digress. This place is the cornocopia of used books. They are not crappy books either! My eyes glazed over and I lost control as I loaded my arms with books. I left paying $25.00 for about 10 books.
Is it just me or does anyone else think these are adorable?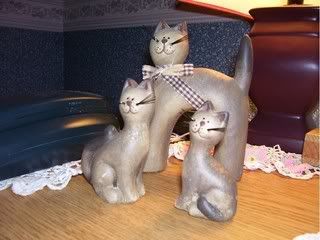 I found these dear kitties and liked them so much I bought 4 sets. If anyone likes them e-mail me and let me know and I will send them to you (free!) I have to know you through blogging and you have to be Canadian (too expensive to send across the border). I was actaully going to ask
Ellen & Curtis
or
Leslie
but I didn't want you thinking I was a freak. I have 3 sets. First 3 people get them. (Note- Dust (cough) on phone not included.)