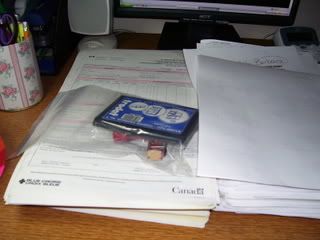 Because of the snow I took two days off this week so I am working from home to catch up. I now look at this pile of filing and I think maybe it wasn't such a good idea! However, we are going to put aside work for tonight and go a light-up festival! Yay!
Update - I am back from the Christmas light-up and working now. It seemed like a good idea at the time but now I don't want to be working. I am cold and want to go have a bath. There are two cats that want to be petted and I just can't ignore them can I? I guess I really shouldn't be blogging eh? OK..back to work!
Another Update- I am finished now and only got distracted once for the above post. I have a nice Hot Chocolate with mini marshmallows and it is warming my hands and tummy! Mmmm. It doesn't get much better than this.